Big Dog on Campus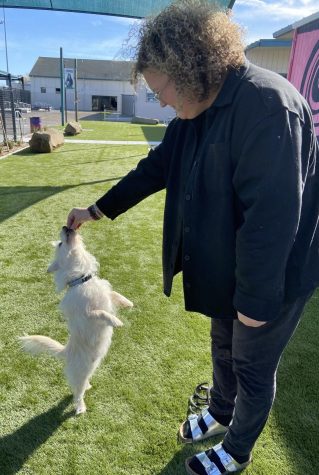 Need a bit of emotional support? Head over to J15, the classroom home to Ms. Clark and her dog, Toby. 
This joyful and loyal canine spends most of his time at home with Clark, her son, and their three cats, however, he also comes along to school every day. Ms. Clark discloses her reasons for bringing him to school, saying, "when my personal and emotional needs sorta required that I had a little extra emotional support. My therapist recommended that I considered bringing Toby to school."
Although there were some worries about Toby being a distraction for the learning and teaching environment, he ended up not being an issue. Ms. Clark even says he, "kinda makes the vibe in our classroom feel a little more homey and inclusive." "The anxiety level is more under control. I find it just takes you away from your own worries when you're thinking about the dog and his well-being."
Toby has not only been helpful for Ms. Clark's mental health but also her student's. "I think Toby really takes well to kids and sorta can tell when someone needs a little extra attention," observed Clark. Christian Molina, senior, says, "Toby is very helpful and stays really peaceful during class. I feel like this is a supportive system for all of us students." 
Getting Toby on campus was quite a complicated process. She reminisced on this time by explaining, "I had to go through the district office and provide a lot of documentation about the needs and documentation from people that take care of me. Plus, I had to get an insurance policy in case anything happened to a student or damaged property."
Whilst students are tested on their math skills in J15, Toby is tested on his tricks. He can do basic dog tricks such as sitting and shaking but he can also impress the students with his skills in standing on his hind legs, spinning on his hind legs, barking quietly on command, doing yoga, and he can even do push-ups while on his owner's back. Ms. Clark claims he is a "pretty good trick dog; he's very easy to train."
Toby makes his classroom homey and full of love, so stop by if a little bit of cuteness is needed.
View Comments(1)