Meet Ms. Henion – The Teacher Behind the Screen
Members of the senior class who went to Sassarini Elementary might have seen a familiar face in the halls, as former fifth-grade teacher Glendi Henion is now a permanent resident on campus. Rather than as a teacher for  in person students, Ms. Henion serves as an independent study teacher. She teaches digitally from K-2 to a spectrum of different students. From kindergarten through 12th grade, her students are assigned to her for various reasons. 
Ms. Henion explained, "I have some students who are there because of a specific medical issue. Some students are there because of a transition in their lives, maybe they moved somewhere else and came back, some students are there because of mental health reasons; anxiety, social anxiety, academic anxiety, or just distractions or the sort of social media aspect of engaging with other students."
Although she misses having the physical connection that comes with in-person teaching, she has found that she has managed to form close relationships with her students. The parents of her elementary students report that their kids say, "They love [her]!"
She first approached teaching as a side project, however, she became consumed and entranced with the profession. She has been teaching as a part of the SVUSD for several years, starting off in Flowery and then switching to Sassarini. In the spring of 2021, the laws surrounding Covid-19 were lifted and students were allowed to return to school in Sonoma County, however, Ms. Henion stuck with her online teaching.  She has "a hereditary kidney disease," that restricts her from traditional classroom teaching. 
Her schedule consists of daily meetings with her elementary school kids and weekly meetings with her older students. She describes her role with her older students as being their case manager. When she does find free time she hikes with her significant other, with her delight for nature matching perfectly to the redwood grove outside her classroom's windows.
Leave a Comment
About the Writer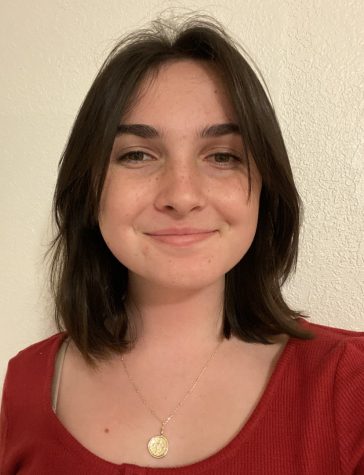 Katie Jewell, Writer
From second to tenth grade, I've always been an author. As the only sophomore in the Dragon's Tale class, I'm very excited to leave my mark. I'm involved...