Chris Gardner: Gymnasium Struck By Smiles of 'Happyness'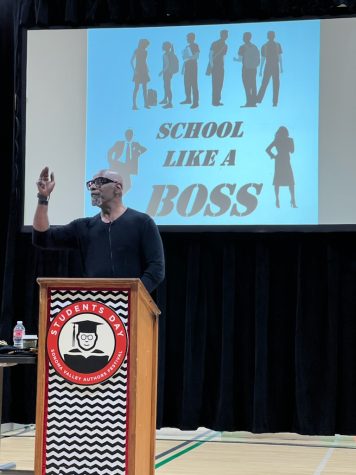 Movie producer, author, stockbroker, philanthropist, and family man Chris Gardner dazzled students and educators alike when he made an appearance at the SVHS gymnasium during Authors Day. He made a strong impression with his classy style and confident demeanor. He sported a black long sleeve shirt tucked into his silk trousers, cheetah print loafers, a gold designer belt, along with several watches.
Gardner began his speech by describing his rough childhood and his experience of raising a toddler through homelessness. Gardner explains that the secret to overcoming his hardships was his drive to becoming "…world-class at whatever [he did]." He credits his success to his mother who told him that he could, "… do and be anything."
Gardner's first book and autobiography, The Pursuit of Happyness, lays out the story of his life's trials, tribulations, and ultimate successes. Due to the potential impact of his inspirational words, he is an author who is banned from prison, along with figures such as Martin Luther King Jr, Maya Angelou, and Nelson Mandela.
Gardner looks back fondly on the production of his movie based on his book when he explained that Will Smith, who played him in the movie, was on set, "… every day of filming for 17 weeks" in order to ensure complete accuracy in playing the difficult role of Gardner. According to Gardner, Will Smith noted that playing him would be,"…harder than playing Muhammad Ali, (because) no one knows your story."
Gardner closed his speech by explaining his love of being a grandparent. He expresses complete admiration and pride for his grandchild, who at age seven, decided that she would become president and secured the opportunity to meet the president at the time, Barack Obama. 
Kannitha Hun, a junior who attended Gardner's presentation, looked back on her experience watching him by noticing how, "… he was very relatable and funny, (and) he caught the attention of a lot of students. When asked to describe Gardner's overall demeanor and impression, Hun remarked that he was, "Sentimental, humble, and funny, he was very funny."
Overall, Gardner left a strong, heartwarming, and genuinely inspiring impression on the audience. Students were captivated by his sharp public speaking skills and distinct laughter. His humbleness, authenticity, and warmth shined through and did not go unnoticed by students.
Chris Gardner hopes that students will understand that "…none of us can change the past but we can all change the future."