Summit Brings Positive Mindsets To High School Sports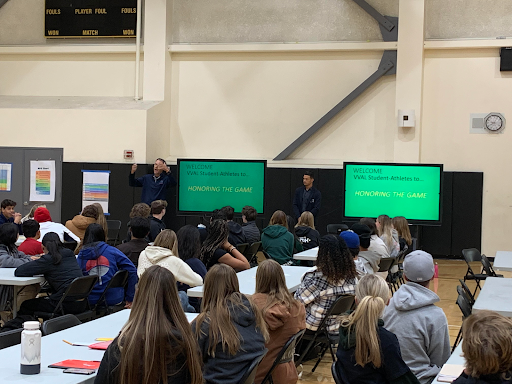 Student-athletes from SVHS headed off to American Canyon High School this past Wednesday, combining with the other Vine Valley Athletic League (VVAL) schools to discuss the topic of sportsmanship. These leaders from Sonoma learned about thoughtfulness in sports, through "honoring the game" by respecting "ROOTS." This stands for respecting the rules, officials, opponents, teammates, and oneself.
The students from Sonoma that attended were Derek Hernadez, Will Breall, Matt Jordan, Grant Boydell, Trent Ohman, Teagan Rhodes, Annabel Sebastiani, Solana States, Nikki Arguello, Lia Jerry, and Taya Gundeid. These leaders hope to bring back impactful knowledge to help increase the sportsmanship of high school sports. About 12 other students from the other VVAL attended, and the event was conducted through lectures and then discussions between the athletes from all around North Bay.
Sonoma's representatives hope to bring back the knowledge they obtained to their respective teams. Sophomore soccer player Teagan Rhodes says that she will help explain to her team the importance of "respecting opponents and officials," knowing that it "can be difficult in a sport as competitive as soccer." This will include having a calm tone with both referees and the opposing team, and not reacting in an angry manner.
Derek Hernadez, senior, comments that he hopes to show his team that "anyone can be a leader and the most important thing about building a connected team is the culture." He said that the event was motivational for him as it taught athletes to continue playing aggressively and passionately, without letting it affect their treatment of the game at all.
The summit demonstrated that respect within sports works everywhere, especially within teams to build an atmosphere conducive to success and fun. Annabel Sebastiani, junior, absorbed the benefits and hopes that it will be continued in future years "so that different perspectives can be heard." 
This was an important aspect of the summit, the dialogue between athletes from different schools to grow their knowledge of the tactics for dealing with certain scenarios. The event hopes to increase the positive relationship between school teams.
This is just the beginning of an increased push by the league and schools to build better sportsmanship in sports and decrease the dangerous animosity of competition.
Leave a Comment