Sentimental Senior Send Off
An emotional senior night for the Dragons ended with a quick 3-set victory against league opponent Napa Grizzlies. The team honored 10 seniors, setter Ashlynn Armitage, outside hitter Kaden Sanders, libero LeeAnna Tommasi, middle blocker Matea Medak, outside hitter Nikki Arguello, middle blocker Ella Heitmeyer, right side hitter Jaden Johnson, defensive specialist Sophie Rulmont, defensive specialist Tita Rodiguez, and setter Vannesa Kutza.
The seniors also wished to recognize a loyal teammate who has supported the team throughout their high school years, Lola Martin. Martin played her first three years of high school on varsity, deciding not to play her senior year.
The team was led by two of these seniors, Arguello with 8 kills and Sanders with 7 kills. This was on top of three aces each from Tommasi, Sanders, and Heitmeyer. It was a total team effort though, with 8 players getting at least one kill, and 9 players scoring at least one ace.
The first set was a deceive win, taking the set 25-12. Sanders and Arguello led the effort with 4 kills each in this set. Tommasi and Sanders also had 9 digs total, leading the defensive effort that held the Grizzlies to only 12 points.
Nothing changed in the second set, as the Dragons took the set 25-15. Sophomore Olivia Paxton had 5 kills to secure the 2-0 lead, with the help of Sanders once again who had 3 kills. The Dragons added 8 aces in this set as well.
The Dragons easily put it away in the third, winning the set 25-18. Leading the way were Arguello and Johnson, both having 3 kills. The defense was also on point, as Tommasi and Sanders had a total of 9 digs once again. One of Arguello's kills put the game away as the Dragons won in three straight sets.
This prompted the group of seniors knowns as the "Hype Squad" to take brooms out and sweep the floor, as the Dragons "swept" Napa. This group also showed up in full suits, taking the "formal" theme literally.
The senior night festivities prompted an emotional final home game for the volleyball team, but it ended promptly as the Dragons made quick work. These seniors, and their team, will now take on playoffs, and their bright futures.
Leave a Comment
About the Writer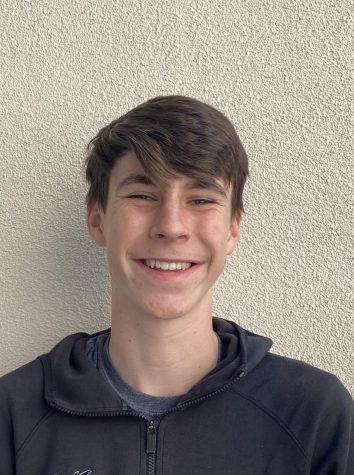 Grant Boydell, Sports Editor
What's up Dragons! I am thrilled to check into my first year on the Dragon's Tale staff. My love for anything sports, school, and journalism will be hallmarks...