WNBA Chicago Sky Flies High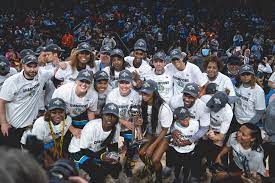 The WNBA Finals recently came to a close with the Chicago Sky winning their first championship in WNBA history. The team was happy with their success but disappointed with the turnout and celebration of fans especially at the championship parade. 
While the team was carried through the streets of Chicago on an open top bus they were greeted and embraced by very few people. The crowd was described as "laughable" was barely a crowd at all. This major accomplishment by the franchise seemed very under appreciated by the people of Chicago and basketball fans alike.
With the girls' basketball season is just around the corner for SVHS, many girls on the varsity team enjoyed watching their idols play on TV.  Senior Zoe Panelli claims that her favorite WNBA player is "Elena Delle Donne for the Washington Mystics," who was the 2015 WNBA MVP.
Panelli was disappointed in the weak appearance of fans at the championship parade and said, "The video is funny but the facts behind it are really sad. They devote their life to this sport as much as the guys do, but the females' life long work don't get the same attention and pay." 
Despite the poor turnout at the championship parade, students here at SVHS recognize and appreciate the hard work and determination that went into the Chicago Sky's first WNBA title.