A Complex Relationship: Sports And The Environment – Clay Tennis Courts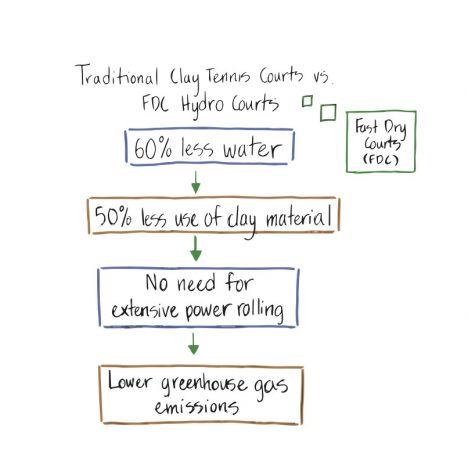 In the world of tennis, Fast-Dry Courts Inc. (FDC) are at the forefront of becoming environmentally friendly with their newest FDC Hydrocourt.
  The FDC Hydrocourt was developed to make clay tennis courts an environmentally friendly construction. Using 60% less water option that uses the least amount of material and machinery for compared to typical sprinkler-irrigated clay courts, this minimizes the emission of greenhouse gases coming from extensive power rolling.
   Despite Golden Gate Park opening a clay tennis courts facility in 1901, no public clay courts remain in operation today in California. As clay courts are often replaced with hard court surfaces, the FDC Hydrocourt presents an opportunity to revive the diversity of tennis playing surfaces.   
   In addition, as landfills accumulate 20,000 tons of tennis balls every year, Project Green Ball turns used tennis balls into recycled products.
   Being the largest tennis ball recycler in the US, Project Green Ball is a non-profit organization that turns used tennis balls into safe flooring for equestrian arenas and playgrounds.
  As the awareness of environmental impact continues to increase in modern society, sports are taking the next step towards establishing positive relations with the environment.