Challenge Accepted: Max Pond Named New Football Coach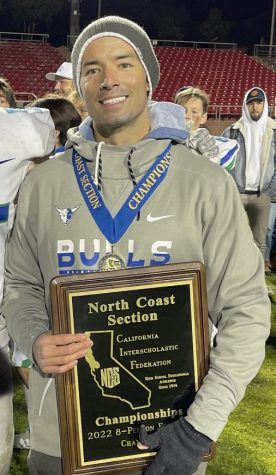 SVHS welcomes former Branson High School Varsity Football coach Max Pond to fill the position of head coach alongside assistant coach Ian Albrecht for the Varsity football team, a position previously filled by Clay Jackson. Pond was born and raised in Sonoma, and he is involved in the community as a coach and business owner.
Pond's last job was at Branson High School, a competitive and academically driven private school in Marin County. Pond led the Branson Varsity team to three consecutive wins in the North Coast Section(NCS) playoffs in a matter of four years. "It's pretty safe to say [I]'ve done my job there and I feel kind of topped out," Pond commented.  On his choice to come to SVHS he added, "I'm looking for another challenge."
He grew up in Sonoma and his football career began as a second grader. He hopes to continue to coach at the college or NFL level. He attended high school at Cardinal Newman and later became a safety at the University of Oregon. Pond expanded that he "come[s] from Sonoma, [he has] a big tie to this community" and he "care[s] about it." 
Pond attributes choosing to attend Cardinal Newman to aiding his growth into the quarterback he aspired to become when he was younger. He was named first-team all-state for his sophomore through senior years, and first-team all-metro. 
The new coach hopes to create a structured team at SVHS, and he is determined to ensure his players see football as not only a physical sport but also a mental one. He wants his players to be met with structure and hope for support from the community to be able to,, "restore Sonoma football back to its earlier days." In Pond's words, football is a "mental game of communication and probability."  Another unique aspect of Pond's coaching is he plans to condition alongside his players step by step. 
He hopes that all his players will have the same feeling of success he experienced when the hard work has been put in. Pond does not view the role of coaching as someone yelling on the sidelines, but instead as being "up in the sky box, looking down on the field- calling the plays." Pond looks forward to his position as it fulfills him and it is his "dream job" and "it always [has]."
On top of beginning to coach SVHS's team, Pond is busy managing the Chocolate Cow, located on the historic Sonoma Plaza. He is committed to focusing on improving the team and his business, especially with the busy summer season ahead.
Given that some community members feel uneasy about the new coach and his distinct coaching style, Pond held a forum for parents and students to have an opportunity to know him better before the transition of coaches. Some players wanted 2022-23 assistant Varsity football coach Garret to continue to serve his role as interim head Varsity football coach, given his past successes. Despite this resistance, many players are in favor of the change. 
Varsity football running back Lee Scott, junior, enthused about the  future coach stating that due to his extensive coaching experience, he is the perfect candidate to understand how to "orchestrate an offense and defense" in this "new era of football," a sport which has changed significantly "over the decades." Scott added that Pond has shared his ambitious plans for the team which include accumulating grants to buy new equipment and extensive plans to improve the team during summer conditioning based on knowledge of the teams they will play in the upcoming season.
Football team manager Victoria Magnani, junior, is hopeful for the future of the Dragon's football team as she believes, "Max [may be] our answer" and that we must "give him a chance."
Pond reiterated his anticipation for the upcoming season, though he noted that "[football is] just a sport at the end of the day, and again, it's gonna be a really fun challenge. Remember, I am a part of the community and I look forward to [coaching]… I'm nervous about it [and that's] why I'm excited about it."
Leave a Comment