Dragon Expo Returns
Note: This article was originally written for The Sonoma Index-Tribune through their student journalist program and is republished with their permission. You can view the original story here: https://www.sonomanews.com/article/news/sonoma-valley-high-welcomes-prospective-freshmen-for-dragon-expo/
Eighth-graders from across Sonoma County were welcomed at Sonoma Valley High School Thursday evening by a mass of student volunteers, staff members and even the school band for the annual Dragon Expo. The event, which offers next year's freshman class a glimpse of high school life, included an evening of tours, academic presentations and live performances.
One of the event's lead planners College Counselor Lisa Conner, noted that the event is designed "to allow incoming freshmen to see the campus." "[I've been] planning since November… We coordinate with the middle schools(public and private) to get information out to families."
Tours snaked through campus to visit every department, led by a mix of administrators and teachers accompanied by upperclassmen decked in school spirit wear. Prospective freshmen learned about hands-on learning in the  engineering and woodshop program and visited the kitchen for brown butter cookies made by the culinary students. At the Myron E DeLong Library, the school's mock trial club held a scrimmage against visiting Marin Catholic as guides touted the school's alumni. 
"We have students who have gone to Stanford, you might have heard of it," joked AP Government teacher Craig Tierney to his group.
The tours also placed heavy emphasis on the newly finished athletic facilities, including an Olympic-sized swimming pool and weight room, as well as neighboring seating areas decorated in Dragon green. The sounds and occasional screams of swimmers enjoying the public aquatics center could be heard as tours passed by.
After exploring the campus, families were directed towards the Pfeiffer Gym, where staff members across all departments, from math to athletics to performing arts, talked with interested students about electives and sports. After a short address from Principal Molly Kiss, families continued to drift through the open campus and talk with student volunteers about their experiences in certain programs and courses. Rowan Winslow, senior, who manned the drama table said, "it was really nice to be able to represent my classes and pass information to the next group of freshmen."
In addition to the presentations and band sets, the school dance team showed off their moves with two performances in Golton Hall, cheered on by enthusiastic friends and family as they moved across their stage.
Despite the festivities, the event was partly overshadowed by recently announced consolidation efforts to accommodate lowering student enrollment districtwide, the controversial departure of Dr. Adrian Palazuelos as superintendent, and a drop in test scores. Several parents noted these issues have contributed to their hesitancy in sending their children to the local high school. Several attended  the Expo for additional research in making a final  decision.
Kiera Larbre, a parent to an SVHS sophomore, Adele Harrison eighth-grader, and a fifth-grader at a Petaluma Charter, said, "[Ultimately] closing schools feels like the right move if it supports the children." 
She also shared fears about campus security, noting previous fights between students.
Others were more optimistic, with Karly Miller, "very encouraged by Principal [Kiss]" and the school's "sense of community." Her daughter, Mary, expressed equal interest in the school's athletic programs, especially as the Dragon girl's basketball team sits in the top spot of the Vine Valley Athletic League.
While Conner believed the event was successful, she noted the drop in attendance compared to years previous, down to 150 people from a high of 500-600. "I have some ideas for next year, including focusing more on the [exhibitions in the] gym. I'll have to coordinate with teachers and administration before we move further into planning."
Aside from the performances and exhibitions, presentations were given on Advanced Placement classes by AP English Language and Composition Teacher Alison Manchester and AP United States History and Social Studies Chair Andrew Gibson. They were joined by current AP students, who touted the benefits of the rigorous classes. 
"You walk into class thinking you know English, and [Ms. Manchester] changes that in a second," said Luc Rulmont, senior. 
As guests trickled out, tired teachers and teens, some of whom had been there since 7:00 am that morning, cleaned up their table displays and put away their pamphlets, ready to return to school the next day.
Leave a Comment
About the Contributor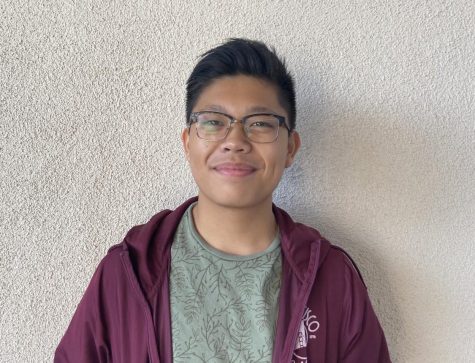 Vince Basada, Editor
Want the inside scoop? Read my articles! I'm a senior, President of Dragons Mic, and student reporter at the Sonoma Index-Tribune. Why Newspaper? Because...