Sonoma Brightens Up Plaza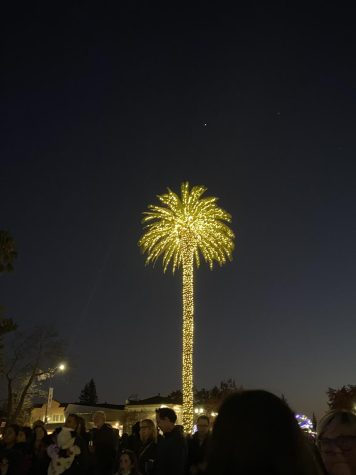 Locals and tourists gathered in downtown Sonoma for the traditional lighting of the palm tree on Nov. 20. Local food trucks such as Black Piglet, Tips Tritips Trolly, and Di Filippo Pizza were assembled in Old Courthouse Square. Alongside performances on stage by Grupo Folklorico Quetzalen and Transcendence Theatre Company Broadway Holiday Spectacular.
Before the lighting of the palm tree, Grupo Folklorico Quetzalen took the stage. They are Sonoma's official ballet folklorico and directed by alumni Victor Ferrer. They participate in various Sonoma's Latin cultural events, and their mission is to "educate, preserve and promote" Mexico's traditions in our community. The dancers were in vibrant colors and playing upbeat music.  The crowd was dancing to the music, capturing videos of the event, and buying from the local stands. 
When it grew dark, the speaker introduced politician Mike Thompson, serving as the U.S. Representative for California's 5th congressional district alongside Sonoma's city council members. Together they led the count down as the crowd focused their attention on the iconic palm tree downtown. A large round of applause, whistling, and photos were snapped when the tree's eye-blinding lights sparked up. Christmas music started to play, and it almost felt like Christmas night as hot chocolate and apple cider was being bought from all around.
The speaker introduced the last event of the night, Transcendence Theatre Company Broadway Holiday Spectacular. A nonprofit musical theatre company with the mission of creating extraordinary experiences for others. They are located in California Wine Country and perform at Jack London State Historic Park. Together the very talented singers and musicians played traditional Christmas songs. 
The many sponsors such as Sonoma Market, Edward Jones Office at Sonoma, Sonoma Clean Power, contributed to the success of the festivities.