Legendary Comedian Paul Mooney, Who Called the Bay Area Home, Dies at Age 79
Paul Mooney, the legendary comedian who wrote jokes alongside Richard Pryor and was a favorite of Comedy Central's famous "Chappelle's Show," known for his shrewd and unforgiving commentary on racism in America, died of a heart attack in his Oakland home on May 19. 
The 2010s saw the beginning of a golden age for comedy. Universal access to the internet and the dawn of the podcast age, pioneered by comedians such as Joe Rogan, Joey Diaz, and Tom Segura, exposed tens of millions of people in the United States, and across the world, to the world of comedy. Comedy podcasts like Tom Segura and Christina P's "Your Mom's House" garner millions of weekly listeners; far more than most network television shows. Netflix pays comedians like Anthony Jesselnik and Bert Kreischer millions of dollars for the rights to their one hour comedy specials. Comedy is an art form that is in high demand, and it is largely thanks to Paul Mooney.
In the 80s and 90s when Hollywood was dominated by white writers and white show runners; Paul Mooney was writing for SNL and In Living Color; exposing millions of Americans to his unforgiving and culturally charged humor; influencing the socially charged style of humor that would dominate American TV and cinema in the late 90's and 2000's. 
Cuban-American comedian Joey Diaz said of Paul Mooney on his hit podcast "The Church of What's Happening Now," that "I would not be here without Paul Mooney. He took me under his wing when I was a struggling road comic. His style of humor paved the way for what we as comics are doing now."
Paul Mooney, alongside his contemporaries like Richard Pryor Dick Gregory, inspired a generation of POC to take up comedy. Paul Mooney proved that POC could not only survive in the white dominated world of stand up comedy and comedy writing, but thrive, and inspire not one, but several generations of stand up comedians. 
Dave Chappelle, arguably the greatest comedian of all time, said of his friend Paul Mooney's death, "He was one of the best that ever did it. His legacy will live forever. He did everything from Richard Pryor's show to Chappelle's show; he was one of the first black people in the writer's guild; Paul Mooney will be sorely missed, and wildly remembered." 
Paul Mooney's influence on comedy cannot be understated. His hilarity is immortalized in his many writings and infamous stand up special "The Godfather of Comedy" released in 2012 when Paul was 70 years old. Even in his old age, he was as shrewd and hilarious as he was in his 30's, truly illustrating his genius. 
About the Writer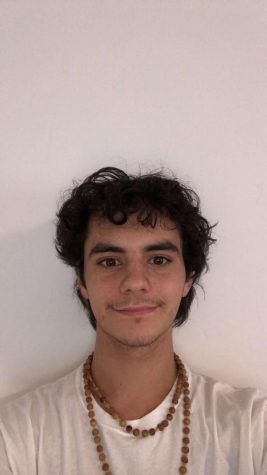 Dino Ortega, News, OpEd
Hello Dragon's Tale readers! My name is Dino Ortega, and I'm a senior at SVHS. My interests include anything related to politics, philosophy, pop-culture,...