Kali Uchis' Sophomore Album Evolves Her Sound, Polarizes Fans
Kali Uchis's sophomore LP has been highly anticipated for over two and a half years since her critically acclaimed 2018 album Isolation placed her in the canon of popular music. 
Isolation's blend of the contemporary Latin pop popular in her home country of Columbia and the melodic soul and funk of the 1970s packaged in Kali's unique dreamy aesthetic appealed to casual listeners and music critics alike garnering it immense success in album sales and building Kali Uchis a large social media fanbase. Singles from Isolation such as the funky neo-soul infused "After the Storm" featuring rapper extraordinaire Tyler the Creator and funk legend Bootsy Collins have accumulated hundreds of millions of online streams and saw significant radio play for months after release. 
Following Isolation, fans expected Kali's next full-length release to be a refined and matured sonic evolution of the neo-soul, funk, and psychedelic soundscape of Isolation; excited to see how and where Kali Uchis' trademark sound would evolve, expecting a record that would radiate even more emotion and soul than Isolation. However, Kali Uchis' 2020 record Sien Miendo (del Amor y Otros Demonios) which translates to Without Fear (of Love and Other Demons) subverted her fans expectations, delivering an album very different from Isolation. 
Sin Miedo is less emotional thematically and less complex musically than Isolation. Sin Miedo's soundscape is more upbeat and electronic; it takes less influence from the jazz-fusion and soul of the 70's and more influence from contemporary Latin trap and Caribbean music like Bolero and Reggae. Sin Miedo is also Kali's first album to be primarily sung in Spanish, with most songs being sung entirely in Spanish or mostly in Spanish with some English scattered throughout the record, showing that Kali is not afraid to defy expectations by exploring new genres and writing Spanish songs which could alienate some of her American audiences. 
The album opens up with the melodic ballad "la luna enamorada," whose smooth electric guitars and Latin percussion complement striking Kali's voice, which has significantly improved in presence and range in the 2 years since Isolation. The fifth track of the album "¡aqui yo mondo!" shifts Sin Miedo's instrumental atmosphere from melodic and dreamy to loud and catchy with its trap beat, latin rhythm, catchy hook, and feature from American rapper Rico Nasty.
The next on the album, "vaya con dios," a slow string backed ballad, is a radical stylistic change from the previous track drawing influences from Lana Del Rey but with Kali's unique cadence and Latin instrumentation. The following track "que te pedi" shifts the tone of the record once again with Kali's immense singing behind jazzy Latin percussion and melodic horns; the track itself being a direct homage to 20th century Cuban ballroom music. The track "telepatia," is a testament to the ongoing wave of bedroom synth pop spearheaded by artists such as Clairo and MacDemarco, with its neo-psychedelic synths and hypnotic vocals perfectly bringing together the neo-psychedelic atmosphere of Isolation with the more robust vocals and grooves found in Sin Miedo. 
The first half of Sin Miedo is a well weaved blend of contemporary Latin trap, traditional Latin rhythms, and dreamy bedroom pop whose balanced synthesis gives Kali Uchis a unique ethos among contemporary musicians. This first half of the record sees Kali stay true to her unique blend of synth-soul while simultaneously incorporating elements of Bolero and Latin jazz fusion to her sound paying homage to Kali's Columbian roots; influences more apparent on Sin Miedo than Isolation. 
After "telepatia," the album takes a dip in production quality and instrumentation that negatively affects the listening experience. The remaining five tracks of the album break away from the variation in sound and influence found in the first half of the album. The Latin trap dance bangers that comprise the last leg of the album like "no eres tu" and "te pongo mal," are so similar in instrumentation and atmosphere they cause the last leg of the album to become one dimensional. 
Marketability is not an inherently a negative quality in music; there is a lot of radio-friendly and mainstream music that simultaneously excels in production, performance, and instrumentation. However, in the last leg of Sin Miedo, Kali Uchis departs from her usually emotionally potent and more alternative styles of songwriting in favor of a more commercial sound which lacks in production and songwriting quality but is abundant in profitability. 
These more commercial sounds of Sin Miedo alienated some of Uchis' primary audiences, such as myself, who prefer Kali's emotional and instrumentally experimental tracks that synthesize a unique blend of international genres of popular music. Although Sin Miedo's highs are more prominent and tangible than its lows, the record left many fans and myself, despite the many great tracks, disappointed in the album's lack of consistency and desiring more from Kali. Sin Miedo was a break from the emotionally potent and thematically complex Isolation in favor of a more commercial and fun sound that allowed Kali to expand her horizons, explore some new genres, while simultaneously staying true to her Latin and dream pop roots in the first half of the album. Just like Isolation, Sin Miedo has left Kali Uchis fans excited and wondering what sounds she will explore in her next project.
About the Writer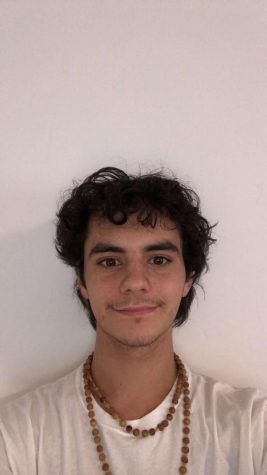 Dino Ortega, News, OpEd
Hello Dragon's Tale readers! My name is Dino Ortega, and I'm a senior at SVHS. My interests include anything related to politics, philosophy, pop-culture,...